Timeless Landmark with prestige.
Corporate Plaza proudly reflects elegance and quality. Centrally located at the intersection of Pennsylvania Avenue and Travis Boulevard, across from the Westfield Regional Shopping Center, this Class A professional office building marks the gateway to Fairfield.
Throughout Corporate Plaza, functional design has been combined with unique elements of pedestrian orientation to create a luxurious office environment to meet the needs of administrative, medical and professional businesses and clients. This refined, three-story, granite and steel building provides an impressive address for your organization.
Let Corporate Plaza reflect your vision.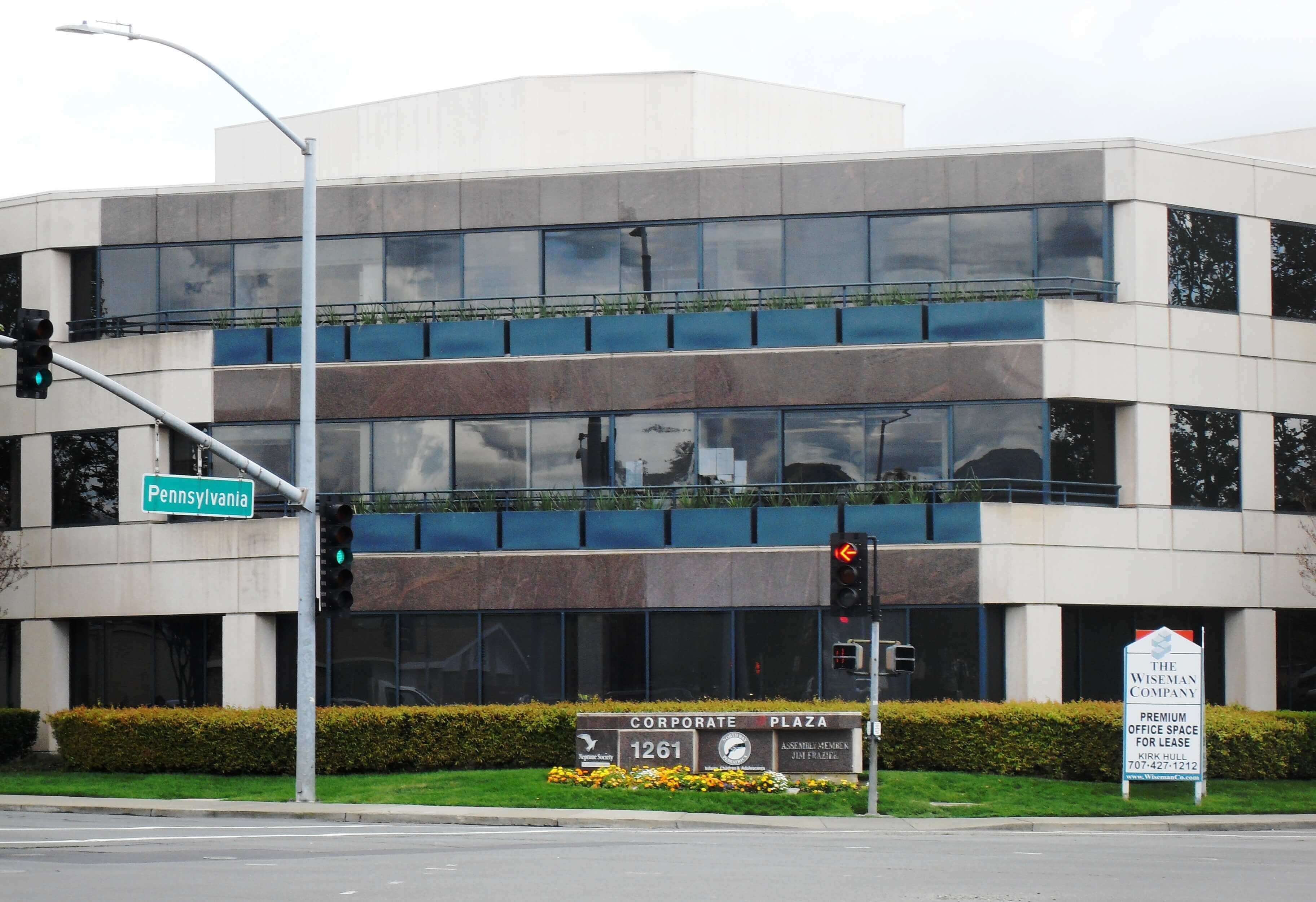 The Perfect Blend of Prestige and Professionalism
Corporate Plaza definitely makes a statement – "respectability, security and strength". Because of this image, a wide variety of local, regional and national firms selected Corporate Plaza as their Solano County headquarters.
This 40,000 square foot, three-story professional office building has an appealing, stable and timeless design. The expansive pedestrian plaza surrounded by lush landscaping leads the way to an impressive, two-story, glass entrance accented by dramatic lighting and polished granite floors. Medical Professionals enjoy the one block walk to The Northbay Hospital campus, while attorneys and accountants appreciate the close proximity to City Hall and the County Courthouse.
Building Features –Benefits
Comfort – State-of-the-Art Energy Management System to Insure Optimum Climate Control
Security – Controlled, After-Hours Keyless Access
Sustainability – Tinted Glass Windows, Electric Car Chargers
Productivity – Modern, High-Speed Data and Communication Connectivity
Accessibility – Elevator to All Floors
Image – Elegant Stone Floor in Lobby
Convenience – Men's and Women's Tiled Restrooms on All Floors
Increased Efficiency – Custom Office Design to Meet Individual Needs
Convenience – Excellent Visibility and Immediate Freeway Access
Security – Secure, Underground Parking Reserved for Tenants
Employee Retention – Centrally Located Adjacent to Solano Regional Mall
Efficiency – Accessible Balconies with Flowering Perennials on the 2nd and 3rd Floors
Efficiency – Steel Moment Frame Construction Permits Space Plan Flexibility, with Minimal Interior Columns
Prestige Image – Carnelian Granite Clad Exterior